Promoting quality of life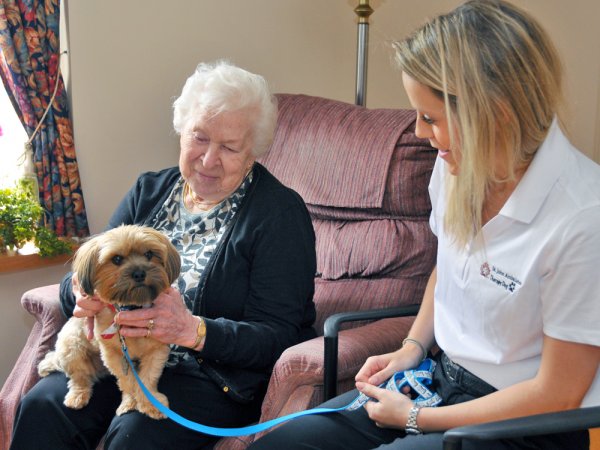 Resident and Family Satisfaction
Resident and family feedback is crucial to our mission to Improve Care, Every Day. That's why each year we conduct satisfaction surveys with residents and their families in every Extendicare long-term care home.
We survey both the residents and their families as their input regarding their experience with Extendicare matters the most. Our survey seeks input on their journey with Extendicare across many areas, includes quality of care and services being provided in their home, activity programming, cleanliness and maintenance, and the food and meals.
Each year, we use the results to assess that experience, our performance and identify opportunities for improvement. On an ongoing basis, we strive to improve every resident and family member's experience with Extendicare each and every day and the survey feedback we receive is critical to achieving that goal.
In 2021, more than 6,000 residents and family members from across Extendicare's owned long-term care homes participated in the survey, which was offered in five languages. Home-specific results were shared with each resident and family community earlier this year and posted in each home.
2021 Results - National Snapshot
86.4% of residents and 88.8% of families would recommend Extendicare homes to others
87.2% of residents and 88.5% of families are satisfied with the quality of care and services they are receiving
85.3% of residents are satisfied with the activities at our long-term care homes
79.8% of residents are satisfied with the quality of meals
All survey responses are carefully reviewed by our team members at the home, regional and head offices and analyzed for opportunities to improve our processes and outcomes. Survey responses guide our long-term care homes local action planning and help inform policy and process improvements by identifying areas of focus for our operational and quality head office teams.
We look forward to sharing results from the 2022 Resident and Family Satisfaction Survey in the spring of 2023.
Resident Centered Programming
We promote quality of life for our residents by ensuring every day is filled with opportunities to participate in recreational activities and therapeutic programs that bring people together.
Many Extendicare homes offer innovative programs such as "Music and Memory" which allows staff to create personalized music playlists for each resident. Music enhances quality of life. Research shows a connection between familiar music and long-term memory. Tapping those memories can bring back positive emotions for persons with dementia and others, helping to reduce responsive behaviours and strengthen bonds among residents, staff and families.
Each home tailors activities for their resident. We also have a Corporate Program Consultant with a wealth of knowledge and expertise in how to engage residents to assist homes with new program development.
To view our upcoming events check out the "News and Events" section of our site.
Restorative Care
Residents can improve their functioning after they enter a long-term care home. Through our restorative care programs, we work with residents and encourage them to do tasks such as eating, dressing, toileting and walking, on their own. Residents have entered our homes in a wheelchair and, with restorative care, have regained their ability to walk on their own.
Our pledge is to provide each resident with quality of care every day.
Ensuring Safety
Staff Immunization
As an organization and as individual employees, we know that influenza poses a unique and serious risk to the health of our residents. We are extremely proud that more than 89% of our long-term care home staff across Canada - 8,600 employees — get immunized each flu season. That's significantly higher than the average 40% - 60% immunization rates in other Canadian health care organizations (Canadian Healthcare Influenza Immunization Network, 2012).
Infection Control Program
As one of the few Canadian long-term care providers with a full-time team of Infection Control specialists, our commitment to infection prevention is clear. Their efforts in instituting best practices, conducting audits and training staff, have reduced infection rates and made our homes safer.
Fire Safety
Extendicare is a leader in fire safety. Extendicare owned homes have complete automatic sprinkler system protection, are fitted with carbon monoxide detectors, conduct regular fire drills to ensure everyone knows their responsibilities in the event of a fire emergency and are inspected by our own internal fire and life safety officer on a regular basis.
Outstanding Resident Satisfaction
Extendicare's values reflect our principles of customer satisfaction; courtesy, attitude, responsibility and excellence.
Courtesy: Each person contacting Extendicare is treated like a VIP. Every member of the Extendicare team ensures that our residents, family members, suppliers and all customers are treated with respect and courtesy.
Attitude: We have the ability to choose our attitude every day and we choose to be approachable and positive in tone, body language and appearance.
Responsibility: We take our responsibility to residents and family members seriously. Everyone is responsible for solving customer satisfaction issues before they escalate. If a staff member cannot provide an answer, he or she will quickly find someone who can.
Excellence: Achieving excellence in everything we do is the cornerstone of our company. Everyone will always go the extra mile to ensure that the quality of care we provide and the level of service we deliver is truly exceptional.
Recognizing Excellence
We recognize excellence in our homes and our staff through our comprehensive awards program. These programs help build and strengthen our culture of quality and let our employees know how much their contributions are valued. Our awards programs include recognition in the areas of safety, quality improvement and years of service.
Our home was the recipient of the following awards in 2013:
Safety Awards
Zero frequency safety Award: Awarded annually to all long-term care homes that demonstrate excellence by carrying out operations for 365 days without a lost time incident.
President's safety Award: Presented annually to all homes and centres that show a significant improvement in reducing incidents in the workplace. To qualify, a home must show a decrease of 25% in both frequency and severity as well as a demonstrated intent by way of objective setting. They must also be under the national statistics for two of the three previous years.
Safety Management Award: Presented to the homes and centres that exhibit a demonstrated achievement in incident prevention and claims management, including those homes with the lowest injury index, which is a combination of the frequency and severity.
Employee Achievement Awards
Although we value all employees across Canada in all of our divisions and the support of team members that work in our offices, homes and centres, we do our very best to recognize team members that go above and beyond in their role. Over the course of 2012, we have presented a number of individuals, homes, centres and teams with the recognition they deserve due to the completion of major projects, outstanding personal achievement or because of what they bring to our organization that nobody else can.
Significant Contribution Awards
Outstanding Service Awards
Quality Of Life Awards
Data Accuracy Award Recognition
Data Accuracy & Excellent Clinical Indicator Outcome Recognition